Art morphs in a tumble, more rapid every year. Its formats fall with technology's forward lean. Amidst iTunes, eBooks, and Netflix, preserving the tangible what-was, is a run against the wind. Yet demand for mediums with shape and texture still stands, shrouded by Apple-spangled standards. In fact, if there exists a counterculture insignia today, the desire to hold art as physical might be that badge.
In Vancouver, print culture is a poster child for this peaceful backlash. Two indie arts and culture publications worth pocketing have emerged in the last six months. Implicitly, these papers challenge how we want to receive arts and information.
Available in black and white since October 2012, Will Anderson's free newspaper Dunk, was originally imagined as a sort of newsletter for Lucky's Comics, his place of employment. With one thousand copies printed monthly, Dunk is crammed with music- and comic-focused content. The articles range, "from historical fiction, to food columns and weird short stories," Anderson explains.
Of course for readers to hold something in their hands, somebody has to pay for it.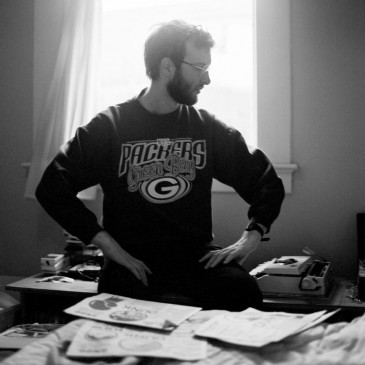 Advertising has been that somebody for Dunk. "We keep the ads as cheap as possible," Anderson reasons, citing rates as low as ten dollars per month. "I'm on the street scrounging up ads and we're barely making the printing costs, if we make them." So far though, this editor/publisher/distributor/contributor, has managed to keep things afloat.
From its four page first-step to its current twelve page stride, this indie paper has survived with a balanced practice of inclusion and exclusion. The latter best describes Dunk's insular creative process, which most bluntly means, "we don't take submissions." An admittedly controversial policy, Anderson explains, "I hope it doesn't come off that we're fascists, but we just want to present the paper in a specific way." He continues, "We want to have a staple of artists who we really like and trust and curate." So far this has meant Dunk has a few regular writers, including Anderson and the owner of Lucky's Comics.
Addressing the former, Dunk's policies of inclusion are less about by-lines and more about morals. One fourth of a band who resolved to play exclusively all-ages shows, Anderson is passionate that art be available to all. "Everyone who wants to enjoy Dunk should be able to. Everyone who wants to go to a show should be able to go. No one should be restricted because they're underage, or broke, or a person of colour, or whatever."
And so Dunk will remain free, with its content in print, forever evading the World Wide Web. Print culture's importance in today's world is also a motivating factor, and Anderson considers, "maybe … we won't last long. Maybe eventually it'll all be iPads and readers and maybe that's fine, but I just think holding something and touching it is different."
Meanwhile, parallel thinking hits the press over at John Studios. Ryan Smith (Green Burrito Records) talks type, amidst a room of publishing equipment. The guillotine stack cutter, page sorter, and folding/stapling machine now sitting idle, all amassed to assemble a trial, issue of Vancouver's newest monthly arts and culture zine, John.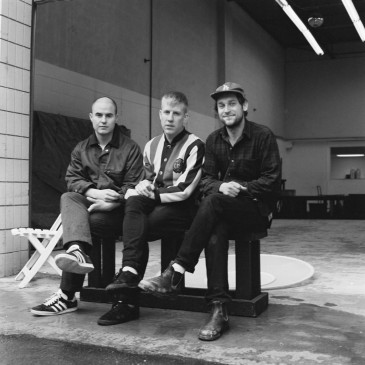 Founded by Andrew Volk, Ryan Smith, and Daniel Rincon, John is designed to emulate the sandpaper sheen of a photocopy. The March preview issue is monochrome literature. All in blue, the letter-sized magazine layout is non-glossy and photograph-filled. After collecting publishing equipment over the years, this project finally gives Smith an excuse to call it all into action.
The zine is just one section of Smith's endeavors at John Studios. This recently leased DTES warehouse space has been divided into different rooms by Smith's carpentry-savvy friend, Johnny Burgess. There now exists a print shop, event space, and a dozen artist studios. Smith regards John Studios as a reaction to Vancouver's dwindling venue scene and the magazine a retort against digital culture.
"The lack of print publications and physical documentation is totally prevalent and of course that's why we'd want to be doing it." Smith can comprehend the Internet's advantages, but also its faults. He is disinterested in the impersonal, and when it comes to the web, "it's all behind a screen." Smith laments the extinction of physical information mediums. The floppy disk, he says, "we saw that come and go. We're going to see so many major things we know today, go."
With photographs, poetry, comics, and music reviews, Smith sees no decided limit on what will live between John's covers. In contrast with Dunk, Smith's curatorial process is open-minded and welcomes even "102-year-olds writing about crocheting." This doesn't mean John is a scrapbook of the mediocre; they are seeking awesome art and, "There shouldn't be a limit to what that is."
Smith also sees this publication as a means for art's immortalization. Discussing the photographs he hopes to hang in John, Smith explains, "There are 500 people who are going to have that photo forever." Then he continues, "Provided the book rippers don't break into your house and rip all your books to pieces." Smith recounts how some libraries are having their books destroyed after being scanned on to digital versions. He half jokes about our post-apocalyptic reality: "It's 2013! Let's rip all the books apart!"
Although the flammable quality of books, newspapers, and letters may not face a world quite as fiery as Smith's Fahrenheit 451-style depictions, these arts and communication mediums are still jarringly endangered. Hopefully John and Dunk will renew the love of paper in this quickly digitalizing city. And may the counterculture grow.