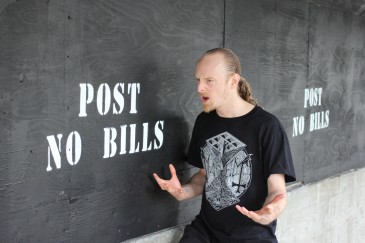 In the 1980s, Vancouver witnessed a peculiar increase in visual marketing: street posters had started to become a business venture.
For one company in particular, what began as a small group of allegedly forward-thinking and non-partisan people became something egregiously misshapen. Eventually a monopoly was formed in this niche marketplace. Turf wars were rumored, threats were allegedly made, but one thing was certain: a poster mafia had been born.
Most visibly in recent years though, a pushback against the dominant force in Vancouver's poster scene has emerged. Slashed, covered over, and torn down, the independent companies have suffered to have their product remain in public view.
Near the forefront of Vancouver's independent poster scene is Silver Fox Postering, run by partners Josh Garvin and Kristl Buckland. The company is a labour of love in all senses, with the couple each putting in substantial work to acquire, organize, and plaster thousands of posters every week. Garvin got his start in the business roughly 10 years ago, while working at a pub that was struggling to keep their ads up around town. As a way to earn some extra cash, he agreed to take on the lengthy postering process for them — and from those humble beginnings, he built a network of clientele suffering from the same problem.
"I started my own company entirely out of word of mouth," Garvin explains with satisfaction. "I don't do any real advertising. People that genuinely want their stuff to do well will come to me."
The choice to become an independent and not fall in with the poster mafia speaks to Silver Fox's almost philanthropic business model. Garvin frequently and happily posters for cheap or for free without hesitation, with him and Buckland each thrilled to be able to help the city's entangled poster and music scenes.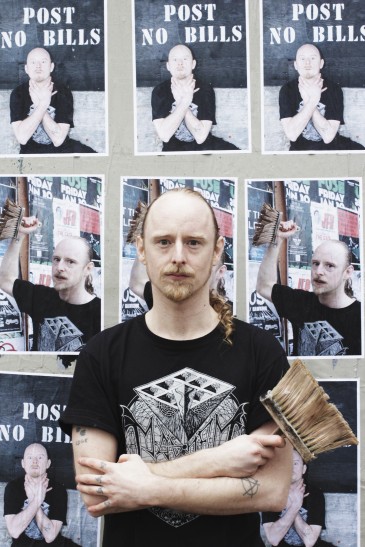 "I don't just worry about money because money doesn't really matter," says Garvin. "Someone just might not have enough money to do their show. There's something, I think, that's much more satisfying and gratifying in supporting people."
"If, in the whole world, everyone just worried about looking out for each other, no one would have to worry about looking out for himself or herself," adds Buckland.
Garvin attests much of Silver Fox's success to this mentality, and it's hard to argue with. Knowing he and Buckland care about the bands to the extent that they do certainly makes working with independent contractors like them seem all the more appealing.
"I like the idea that people can have choice and options rather than having to be forced to use one large company. I can bring complete integrity to my work and know that I'm doing it properly … I can always make sure that whatever I'm doing is 100 per cent aligned with what I believe in."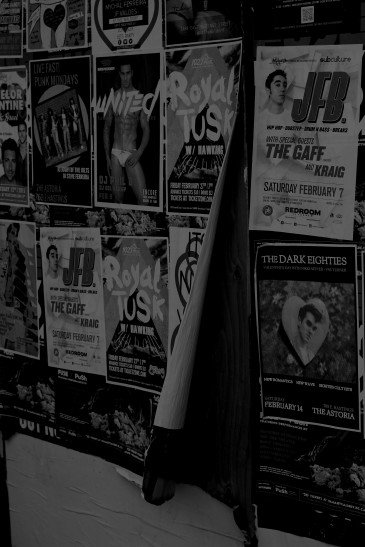 For Garvin, while postering may have started as a side job, it quickly became a full-time enterprise. On average, Buckland and Garvin estimate Silver Fox puts up 600 posters a day, six days a week in the off-season, and twice that when it's busy. Besides cycling around town, packaging posters and making glue (their homemade recipe, the result of tireless trial and error by Buckland herself) adds additional time to the process, turning what may seem like an easy exercise into an all-day event. The workload, however, is something they're both grateful for, considering the hazards their clients are subjected to.
"Our customers will get harassed," says Buckland, with Garvin elaborating: "They'll get phone calls from the big guys … and I think they do it because they don't know any better. It's that weird, cartoonish bully thing."
And it's not just their customers who've felt the pressure of the poster mafia. Even though business is going well, Garvin and Buckland still find the need to be careful, moving around the city and changing routes to stay as safe and anonymous as possible.
Nevertheless, despite the risks associated with using an independent service, Garvin sees camaraderie growing in the face of adversity and is happy that Silver Fox is amongst the group of homegrown poster services responsible for change. "Over the last few years, [the community] has been getting really strong. The power that the bigger companies have is dwindling now, and it will continue to do so."
Their confidence in the cause only matched by their passion for the work, Garvin and Buckland will no doubt continue to see more success in the future with Silver Fox bringing a level of compassion and integrity to every poster plastered.
Always wanted to make your own glue but never knew how? Here's a nifty home recipe, courtesy of Garvin and Buckland!
Ingredients:
500g cornstarch
1 litre of cold water
10 litres of boiling water
1. Add cornstarch to one litre of cold water in a pot.
2. Whisk until a milky, even consistency occurs.
3. In a separate pot, bring 10 litres of water to a boil.
4. Add starch water to boiling water slowly; whisk until evenly mixed.
5. Remove from heat until glue settles.